Japanese Fried Chicken Steak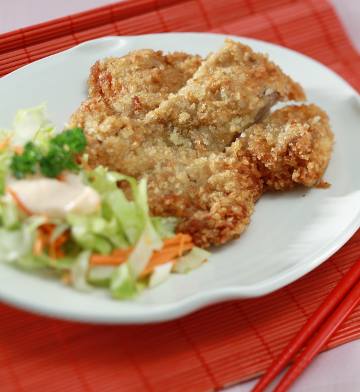 Material:
2 pieces of chicken upper thighs, without skin and bones
1 clove garlic, grated
½ teaspoon pepper
2 tbsp Japanese soy sauce
cooking oil
Layer:
3 tbsp plain flour
1 egg white
100 g coarse flour panir
Complement:
Salad vegetables (cucumber, tomato, lettuce)
Method:
* At-o'clock chicken thigh meat until flattened widened.
* Smear the garlic, pepper and soy sauce until blended.
* Marinate with a thin layer of flour tepug.
* Dip in egg whites and whipped panir roll in the flour until blended.
* Allow some time to dry.
* Fry the hot oil and lots of it to dry and mature both sides.
* Angakt and drain.
* Serve warm with complementary.
For two people