Lemon Strawberry Cheese Cake-Resep Kue Natal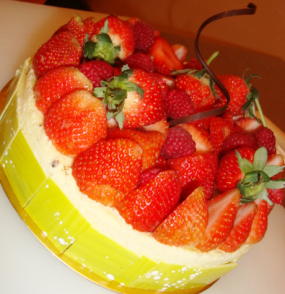 Material:
750 g cream cheese / cream cheese until room temperature
200 g sour cream / sour cream, allow it to room temperature
250 g granulated sugar
1 orange juice imports, scar skin
7 eggs

2 pieces of chocolate cake / chocolate sponge cake *)
Decoration:
Fresh Strawberry
Brown ornamental
Method:
* Beat cream cheese, sour cream and sugar at medium speed mikser or with wire whisk until sugar is dissolved and smooth.
* Add grated lemon peel and beat until egg while blended and smooth.
* Prepare 2 pieces of brass ring 22 cm. Wrap with aluminum foil.
* Place the chocolate cake at each bottom of the pan.
* Pour the cheese mixture to 2 / 3 full.
* Place the pan containing the cake in the pan is greater. Give hot water up to as high as 1-2 cm.
* Bake in hot oven 160 for 30-40 minutes until the surface of the frozen cake.
* Remove and let cool.
* Decorate the cake with decoration material.
For 2 pan