Nasi Bakar Tuna
Let's see Indonesian cuisine using tuna fish, I think that it is one of the delicious Indonesian cuisine.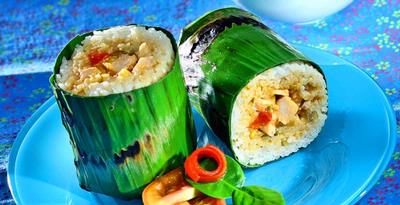 Nasi Bakar Tuna – Indonesian Recipe(kompas)

Nasi Bakar Tuna – Indonesian Recipe
Material:
6 tablespoons oil for sauteing
2 cloves garlic, minced
50 g onion, chopped
500 g rice, rinsed, drained
600 ml coconut milk
3 bay leaves
2 stalk lemon grass
½ tbsp salt
1 teaspoon bouillon powder
banana leaves for wrapping
Contents:
2 tablespoons cooking oil for sauteing
3 pcs garlic
50 g onion, chopped
150 g canned tuna, drained
50 ounces red bell pepper, cut into cubes
50 ounces green pepper, diced
1 tsp pepper powder
1 teaspoon salt
½ tsp oregano seasoning
3 tablespoons tomato sauce
100 g sweet corn
1 stalk green onion, sliced
1 tsp sugar
Method:
1. Contents: saute garlic, onion until fragrant. Add the remaining ingredients, cook until the ingredients are cooked. Remove and set aside.
2. Rice: heat the oil, saute garlic and onion until fragrant. Enter the rice and remaining ingredients. Cook until the coconut milk is absorbed and the rice becomes depleted aron.
3. Steam in a steamer heat, for 20 minutes until cooked. Lift.
3. Solution: grab a piece of banana leaf, give the rice, flatten, put the contents, wrap it like a big rice cake, stick pin with both ends. Grilled on a griddle until fragrant. Serve.
For 6 people