Resep Ikan: Salmon Teriyaki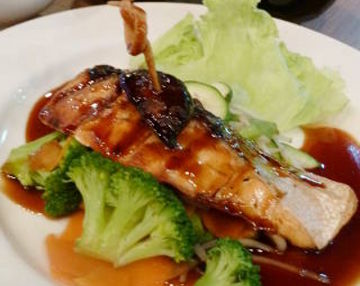 Material:
100 g fillet of Norwegian salmon
10 g zucchini, thinly sliced
10 g carrots, thinly sliced
10 g broccoli
10 g baby green beans

10 g bean sprouts moyashi / big bean sprouts
90 ml teriyaki sauce (see recipe)
75 g lettuce
Teriyaki Sauce:
250 ml of sake
400 ml mirin
Soyu 1.5 Ltr.
125 g granulated sugar
75 g Bone Chicken / Salmon
15 g Hondashi
Method:
Rub the salmon with a little salt, pepper and lemon juice.
Bake salmon until cooked. Lift.
Boil vegetables (zucchini, carrots, broccoli, green beans and bean sprouts) briefly in boiling water. Drain immediately.
Place lettuce and vegetables on a serving plate.
Place the salmon on top.
Bring to a boil then pour teriyaki suas over salmon.
Serve immediately.
Teriyaki Sauce:
* Boil all ingredients over low heat until boiling and partial shrinkage.
* Remove and let cool.
For 1 person