Domba Panggang Bumbu Rujak
Prepared grilled lamb from Chef Vindex Tengker this could be a tempting dish. Interestingly, this roasted lamb served with salad spice concoction.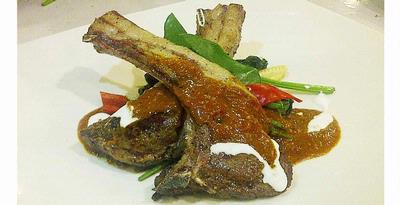 Domba Panggang Bumbu Rujak (kompas)
ingredients:
350 gr lamb rack
50 cc salad seasoning
80 g spinach, sautéed
30 g baby corn, stir-fry
salt and pepper to taste

Seasonings salad:
30 cc of oil
60 gr onion, sliced
15 g garlic, sliced
75 g red pepper, seeded and sliced
10 grams of ginger, sliced
15 g lemongrass, sliced
25 g pecans, toasted and crushed
5 gr shrimp paste, puree
2 bay leaves
10 cc of acid water
40 g brown sugar
500 cc coconut milk
sugar and salt to taste
broth to taste
How to make:
1. Seasonings salad: Heat a pan, add oil. Saute onion, garlic, red chillies, galangal, and lemongrass until fragrant. Add toasted pecans and shrimp pasta. Chill. Once cool, put these ingredients into a blender, and puree. Saute seasoning again and add the remaining ingredients are still there. Cook for 10 minutes. Set aside.
2. Lamb: Marinate the meat with salt, pepper, and herbs salad. Allow to marinade seep. Then roast it until done. Let stand for 5-10 minutes before serving.
3. Vegetables: Saute a little garlic until fragrant, then add the spinach and baby corn. Sauté briefly until wilted and cooked. Add salt to taste.
4. Tata vegetables in the bottom of the plate and arrange the lamb on it. Sprinkle salad with herbs and coconut milk.
Source : kompas
None found.