Grilled Lamb with Pistachio Puree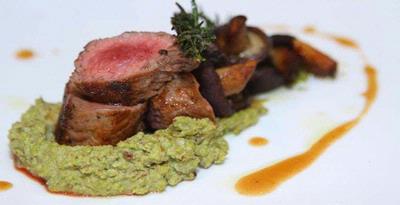 Grilled Lamb with Pistachio Puree (kompas)
Grilled Lamb with Pistachio Puree
Lamb chops have a softer texture and less pungent than that of goat meat more easily processed. The lamb chops are also very suitable served with a variety of menus companion (side dish) like a puree of pistachio nuts.
Ingredients:
300 gr lamb rack of lamb
½ tsp salt
200 g shiitake mushrooms,
1 sprig rosemary, for garnish

1 tsp blackpepper
1 clove garlic
Olive oil, enough for frying
sauce:
500 gr lamb bone
1 carrot, cut into pieces
½ onion
5 grains of cardamom
1 sprig of rosemary
1 stick of celery
500 ml of water
3 spring onions
Pistachio Puree:
300 g pistachio nuts
100 ml milk
¼ tsp salt
½ tsp blackpepper
How to Make:
1. Separate the meat from the bones, then smeared salt and blackpepper to the entire surface of the meat.
2. Heat a pan, add a little olive oil. Cook the meat until the desired level of maturity. to add aroma add the garlic and rosemary into it intact so the meat more fragrant. After the meat cooked, put into it shiitake mushrooms and cook together until cooked.
3. Sauce: Roast the bones until lightly browned, then boiled bones along with carrots, celery, onion, bombay, for 4 hours. Move into a smaller container, Shrink again until the sauce thickens.
4. Pistachio puree: baked beans until soft and puree, then, add milk, salt and pepper to form a paste.
5. Serve chops with sauce and puree.
None found.