Fish Perkedel Chili Sauce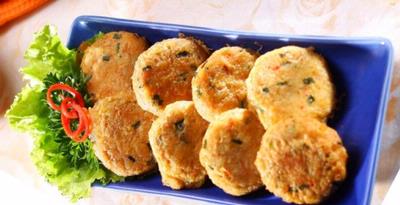 Fish Perkedel Chili Sauce(kompas)
ingredients:
300 gr mackerel fillet, mashed
1 ½ tbsp fish sauce

½ tsp salt
10 lbr lime leaves, finely sliced
100 g potatoes, steamed, mashed
1 tsp curry
½ bunch chives, sliced
oil for frying
Subtle Seasonings:
75 gr onion
3 cloves of garlic
2 stalk lemongrass, take the white part
2 cm ginger
1 pcs red chilli
Chili Sauce: (simmer until thick)
2 pcs red chili, puree
2 tablespoons fish sauce
2 tsp sugar
3 pcs red chili, finely sliced
50 ml of boiled water
3 tablespoons lemon juice
Btr 1 onion, thinly sliced
1 stalk lemongrass, white part, thinly sliced
How to Make:
1. Mix fish, potatoes, spices, curry, fish sauce, and salt and stir well. Add kaffir lime leaves, and chives and stir well.
2. Take 1 tablespoon full of dough, flat round shape 3 cm in diameter. Repeat until dough runs out.
3. Fried fish in batter and hot oil until browned lot, lift. Drain. Serve warm with chili sauce.
For 15 pieces)