Blanket Shrimp Salad Beans with Fruit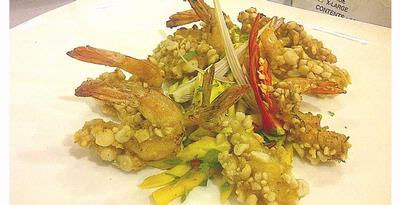 Blanket Shrimp Salad Beans with Fruit (kompas)
Blanket Shrimp Salad Beans with Fruit
Fried shrimp with extra beans and eaten with fresh fruit salad can arouse passion you eat.
ingredients:
30 medium sized shrimps, peeled leaving tail
80 g hazelnut
60 grams of ginger

1 kg of rice flour
300 gr cornstarch
2 tsp coriander leaves
60 grams of garlic
40 g turmeric
2 tsp white pepper
2 tablespoons of salt
1 kg peanuts, peeled and chopped
1 piece of chicken eggs
1 1/2 liter of water
10 sheets of orange leaves
Fruit salad:
120 gr mango
60 grams of jackfruit
1 large red chilli fruit
2 g coriander leaves and mint leaves
1/2 tsp fish sauce
1/2 tsp dried shrimp
1 tsp lemon juice
1 tsp brown sugar
2 grams of coriander leaves
How to make:
1. Hazelnut puree, garlic, turmeric, and ginger. Set aside.
2. Mix the rice flour, cornstarch, coriander, white pepper, salt, and lime leaves. Set aside
3. In a separate bowl, mix egg with water. Mixed with spices, and flour into it. Stir in chopped nuts rata.Kemudian mix into it.
4. Dip the shrimp into the flour then fry until it changes color.
5. Salad: Mix all ingredients and stir well.
6. Serve shrimp with bean blankets fruit salad.