Cheese Stick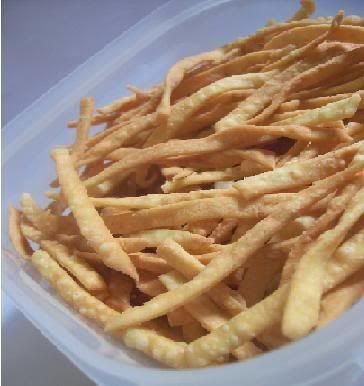 Materials:
* 250 gr wheat flour
* 125 gr sago flour
* ½ tsp salt
* 2 eggs btr
* 100 ml of warm water
* 50 gr butter
* 150 gr Edam cheese, grated
* 50 gr grated cheddar cheese
* Vegetable oil to fry

How to create:
* Mixed wheat flour, sago flour, salt, cheddar cheese, Edam cheese and eggs, while stir water until not sticky, enter butter stir continue to dull. Then rounded .
* Diluted dough with a rolling pin, then use the diluted tool , make flat several times until slippery. Last give sago flour with thin, Ground into stick form.
* Heat oil in a medium fire, fried chees stick to tawny. Lift, drain up.
* Once cold, store in toples meeting.