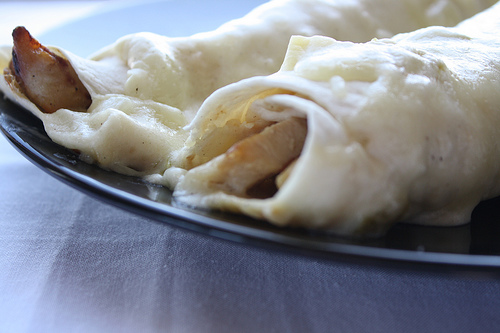 This was my first time ever making chicken enchiladas and they turned out great. Chicken enchiladas are a Mexican dish consisting of stuffed tortillas that are covered in a delicious sauce and then baked in the oven. There are a lot of different recipes for chicken enchiladas all having different fillings or sauces. This recipe calls for cooked chicken, so it's a great way to use left over chicken. I personally grilled the chicken with a few seasonings and then cut it up into small pieces. These were very easy to make and I can't wait to try out some other types of enchiladas. Serve with rice. Enjoy.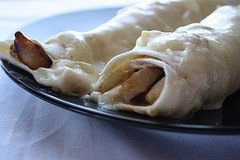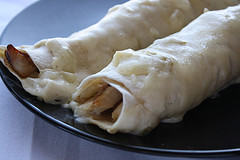 Ingredients:
8-10 flour tortillas (or corn tortillas)
2 cups cooked chicken (chopped)
½ cup onion (chopped)
4 garlic cloves (minced)
1 teaspoon ground coriander
¼ teaspoon pepper
2 tablespoons butter
3 tablespoons flour
1 (8 ounce) carton sour cream
2 cups chicken broth
1 (4 ounce) can green chilies (diced)
1 cup shredded Monterey jack cheese
Cooking Instructions: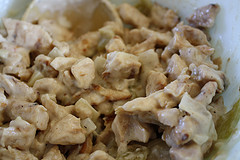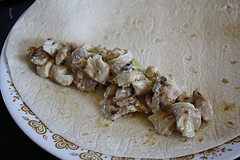 Step 1: To make the sauce – In a large saucepan. Melt butter and add onion, garlic, coriander and pepper. Cook until onions are tender. Stir the flour into the sour cream and add to the onion mixture. Stir in green chilis and chicken broth at the same time. Cook and stir until thick and bubbly. Remove from heat and stir in ½ cup of cheese.
Step 2: Stir ½ cup of the sauce into the cooked chicken. Mix well. Heat tortillas for 30 seconds in the microwave. Spread 2-3 spoonfuls of the chicken mixture onto each tortilla and roll up.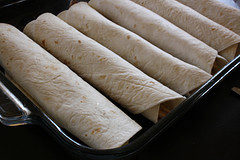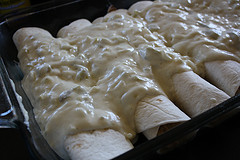 Step 3: Place tortillas seam side down into a lightly greased 12 x 8" baking dish. Top tortillas with the remaining sauce.
Step 4: Cover loosely with tin foil and bake in the oven at 350 degrees for 35 minutes. After 35 minutes uncover and top with the remaining cheese. Bake for an additional 5 minutes or until cheese is fully melted. Serve.
Source :http://blogchef.net/chicken-enchiladas-recipe/
None found.