Baked Soy Chicken Wings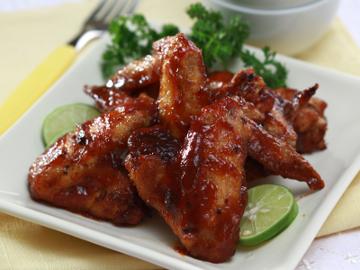 Material:
10 pieces chicken wings
1 clove garlic, grated
1 teaspoon salt
cooking oil
Seasoning, mix well:
2 tablespoons BBQ sauce
2 tbsp oyster sauce

2 tablespoons bottled chili sauce
1 clove garlic, finely chopped
2 onions, finely chopped
½ teaspoon pepper
1 teaspoon salt
1 tablespoon vegetable oil.
Method:
* Clean the chicken wings. Cut the pointed end.
* Knead with garlic and salt until blended.
* Fry in hot oil until slightly dry. Drain.
* Marinate chicken with seasoning each wing.
* Put on a plate heat resistant. Bake in hot oven for 30 minutes.
* Remove and serve hot.
For 10 pieces