Bread Wedang-Resep buka puasa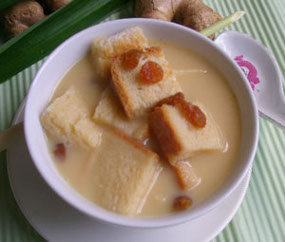 Material:
2 pieces of white bread, diced 2 cm
2 tablespoons yellow raisins
Mayonnaise:
500 ml water
4 cm fresh ginger, roasted, crushed
1 stalk lemongrass, crushed
1 pandan leaves, cut into pieces
150 g brown sugar
2 tablespoons granulated sugar
1 / 4 teaspoon salt
500 ml coconut milk

Method:
* Bake the bread in a hot oven until slightly dry. Remove, let cool. Set aside.
* Mayonnaise: Boil water with ginger, lemongrass, pandan, red sugar, granulated sugar and salt until boiling.
* Boil until slightly shrunk.
* Put the coconut milk, bring to a boil again some time. Lift.
* Arrange the bread slices in a bowl.
* Pour the hot Kuah. Sprinkle raisins.
* Serve hot.
Bread Wedang For the fourth bowl