Choco Chips Cake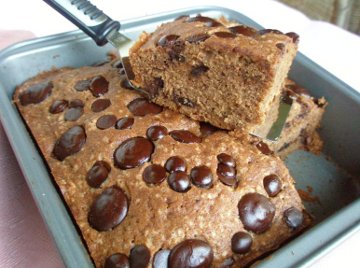 Material:
225 g unsalted butter
200 g sugar
4 eggs
150 g chocolate chips / buttons
Sift together:
250 g wheat flour
30 g cocoa powder
1 teaspoon baking powder

Method:
* Prepare a square baking pan 20 cm, polish margarine, sprinkle with flour.
* Beat butter and sugar until smooth and fluffy.
* Add the eggs one by one and beat until dissolved.
* Enter terpung flour mixture and stir well.
* Add chocolate chips and stir well.
* Pour into baking pan, spread them evenly.
* Bake in hot oven 180 C for 45 minutes.
* Remove and let cool.
Choco Chips Cake For 16 pieces