Chocolate Bread Pudding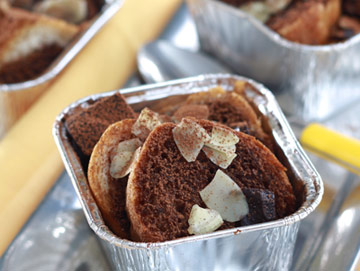 Material:
½ fruit of French bread, sliced crosswise 1 cm
100 g cooking chocolate, chopped
3 eggs chicken
400 ml milk chocolate
1 teaspoon cocoa powder

2 tablespoons granulated sugar
½ teaspoon vanilla powder
Topping:
100 g cooking chocolate, chopped
1 tablespoon sliced almonds
Method:
* Prepare a heat-resistant containers, margarine polish.
* Arrange the slices of French bread and chocolate in the dish in layers.
* Beat eggs, sugar, milk, cocoa powder and vanilla until blended.
* Pour into a container containing the bread.
* Give Topping ingredients.
* Bake in hot oven 180 C for 30 minutes.
* Remove and serve warm.
For 4 people