Crab Ravioli on the Shores of Jimbaran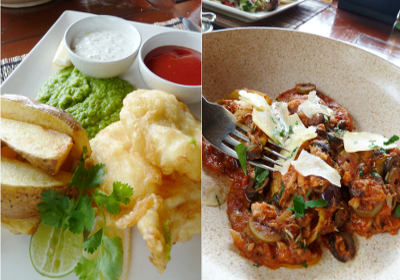 Bali – The beauty of Jimbaran beach, gentle waves and the cradle of the sea breeze will accompany you to enjoy the delicious meal here. There is a fresh Mediterranean salad, the juicy lamb kebabs until Fish and Chips are crispy. Molten Chocolate Fondant became tongue penyelus exceptional cuisine at the end of the meal. Difficult to forget!
Beautiful beach, tranquil and romantic ambiance, fresh cocktail plus delicious food. That is the target when looking for a relaxed lunch location in the Jimbaran area. PJ's name is at the Four Seasons Resort Jimbaran is little known.

Famous healthy Mediterranean cuisine became one of the excellent PJ's. As an opener, PJ's mezze and PJ's Snacks became my choice. Deliberately different appetizers and a lot of us choose to be able to linger to enjoy the beauty of Jimbaran beach.
One large white plate with a few small bowls are presented. Tiny bowls containing hummus chickpeas, Eggplant caviar, goat cheese with a sprinkling of dried chilli, spice tabouleh, black olive and green. Pitta bread is still warm tiny steaming become complementary.
PJ's Snacks is more of a sample of the all savory snacks. There is a lobster spring rolls with sweet chili sauce, plus salad shrimp with spiced vegetable yellow. Hmm … everything fresh and tickle the tongue, so do not feel it slowly opening even this dish complete.
Sound waves at the beach became a strong accent thin atmosphere overcast afternoon. Fish and Chips orders sayapun served steaming hot. Because the old do not eat this dish I so miss weight. Moreover, Fish and Chips is wearing a beer in the batter. It's almost certainly going to krenyes crisp.
It turned out that my guess is correct, two pieces of snapper wrapped in flour with medium size is indeed krenyes crunchy, savory taste. Dicocol with tartar sauce is tasty acid with traces of malt vinegar is really fit. Its french fries are not factory-made but cut yourself until you feel a delicious chewy!
PJ's also has pizza and pasta baked with a lucrative timber. So my friend's choice, ravioli with snapper and crab meat stuffing is tempting me to go tasting. Four fruit ravioli covered with a rather large size tomato sauce with chopped olive plus Parmesan shavings.
PJ's
Four Seasons Resort
Bali at Jimbaran Bay
Jimbaran
Phone: 0361-701010
Hours: 11:00 to 22:00
Start Price: USD. 65000.00 – Rp. 650,000.00 per serving