Crispy Cookies – Kue Lebaran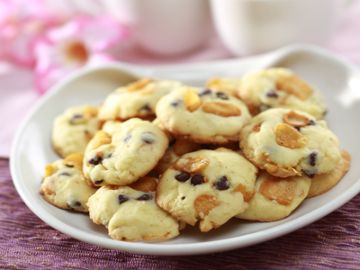 Material:
80 g margarine
50 g butter
100 g powdered sugar
1 egg
60 g cornflakes, crushed coarse
100 g chocolate chips
Sift together:
200 g wheat flour
30 g flour miazena
30 g milk powder
½ teaspoon baking powder

Method:
* Beat the margarine, butter and sugar until smooth.
* Add eggs, beat well.
* Add the flour mixture and stir well.
* Enter the cornflakes and chocolate chips and stir well.
* Spoon the dough, put it in a flat pan.
* Bake in oven pans 180 C for 30 minutes.
* Remove and let cool.
For 600 grams