Durian Ice Cream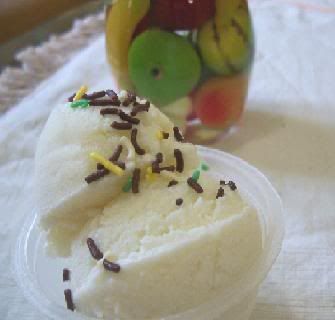 Materials :
Liquid Milk 1 cup
3 cup water
¼ teaspoon salt
200ml coconut milk
5 seeds / eye durian monthong (allowed to add according to taste), smooth
Method:
1. Heat water, milk, coconut milk and durian until boiling.
2. Lift Stir gently and let stand until cold enter into the    freezer.

3. Remove the dough ice cream after a half-frozen and then    process in blender or mixer until smooth.
4. Save back in the freezer until frozen. Do it 3 times.
5. Serve in glasses or serving ice cream cone, chocolate  sprinkle meisjes.