Enjoying the Traditional Food in the Betawi Cafe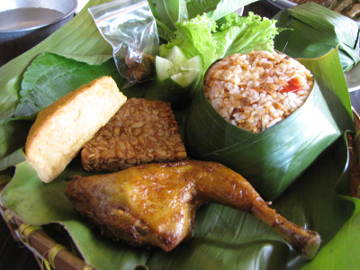 If you miss with a variety of traditional foods such as rawon, spinach noodles, salad ulek, or cake creasing the restaurant this one could be an option. In addition to the place that is not so far away from the office at an affordable price make it crowded.
The choice fell on the Plaza Cafe Betawi Setiabudi because on the show this time we find cuisine of the archipelago. Betawi cafe located on the 1st floor, Plaza Setiabudi is one of the many restaurants in this building. Cafe betawi as the name suggests offers various specialties Jakarta plus snacks and kerupuknya. The restaurant is designed like a home betawi with chandelier lighting and furniture. Impressed interesting and natural.

Cuisine that are here pretty much kind. There betawi soto, soto mie, oxtail soup (fried), goat soup, uduk rice, fried rice, nasi rawon, lontong stamp Gomeh, laksa betawi, vegetable rice cake, noodles kale, ketoprak, various kebabs, salad ulek, cakes creasing, and pempek.
For drinks available soft drinks milk, coffee (brewed, milk), sekoteng, wedang ginger, grass jelly ice, Doger, young coconut, cendol, ice mixed. Do not forget snacks such as brain brain, various crackers and desserts such as duck salad and pickles.
Coincidence because the gang crowded so we chose the variety of food. I chose the fried rice lamb, goat meat was tender and the marinade. Lontong stamp gomehnya have also okay. Sauce is thick and is quite a lot. Soto betawi taste did not disappoint and chicken karinya also delicious. Conclusion The food did not disappoint.
Other friends also feel satisfied with the food. To drink we chose a variety of fresh juices and quite varied. Do not forget to order a cover such as pickles and salad duck. Hmm … remembered the first time to buy food from vendors.
Cafe betawi exist in several locations in Jakarta. This restaurant opening hours from 10 am till 11 pm. This restaurant is perfect for lunch, dinner or just a place to chat and eat snacks. If it's value for the food here is quite decent.
The average food prices between USD 25ribuan – USD 50ribuan. If drinks varies between Rp 10,000.00 to Rp 20.000,00. If different "dessert", such as pickles and salad is still below 10 thousand.
Kafe Betawi
Setiabudi Plaza 1st Floor
Brass
South Jakarta
Tel: 021-52900830 021-52900830