Green Bean Soup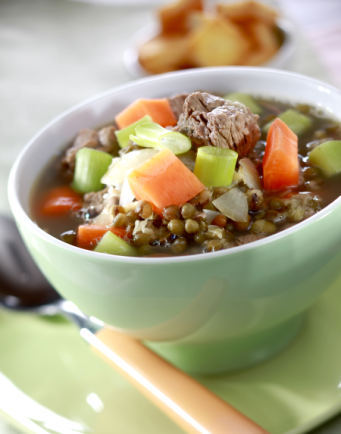 Material:
1 tablespoon margarine
30 g onion, chopped
1 clove garlic, minced
100 g boiled beef tetelan meat, cut into pieces
1 L broth
100 g green beans, wash, soak in cold water, drained
75 g carrots, cut into pieces

1 stalk celery, cut into rough
½ tsp pepper powder
½ tsp nutmeg powder
1 teaspoon salt
Complement:
crouton
Method:
* Saute onion and garlic until fragrant.
* Add meat and stir well.
* Pour the broth and add green beans.
* Cook over low heat until beans and tender green broke.
* Add carrots, celery and seasonings.
* Bring to a boil over low heat until thick. Lift.
* Serve with a sprinkling of Crouton.
For 6 people