Grilled Fish Soup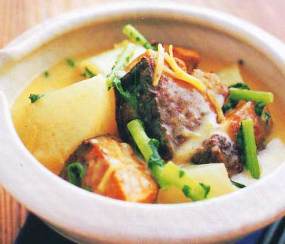 Material:
300 g tuna meat / cob
Mix well:
2 cloves garlic, grated
1 / 2 cm ginger grated
1 / 2 cm turmeric grated
1 teaspoon salt

Mayonnaise:
500 ml unsweetened soya milk
20 g onion, roughly sliced
1 / 2 teaspoon pepper
1 teaspoon salt
100 g turnips, cut into pieces
75 g green cabbage, cut into pieces
Method:
* Marinate the tuna steaks with seasoning until blended. Let stand for 30 minutes.
* Put in baking pan / dish flat. Grilled or roasted over coals until cooked fish. Lift.
* Mayonnaise: Boil the soy milk with seasonings.
* Insert fish and vegetables. Simmer until flavor is absorbed and the vegetables are tender.
* Remove and serve hot.
For 4 people