Interfood Food Exhibition 2010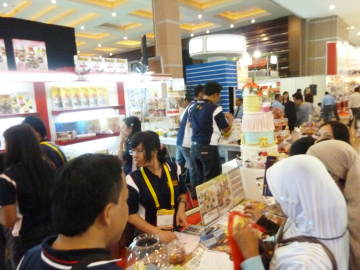 Jakarta – Indonesian Interfood again be held at Kemayoran. The annual event was held to-10 time is not only the exhibition's largest food and beverage, but also seminars, baking demos, and some interesting competition.
Repeating the success of last year, Krista Exhibitions  held Interfood Indonesia 2010 again. This time this international event was held at the Jakarta International Expo (JI Expo), Kemayoran, Jakarta and immediately opened this morning by Mr. Bachrul Chairi SE, MBA as the representative of the Ministry of Trade of Indonesia.

Just a few hours opened Interfood Indonesia 2010 has been invaded by visitors both from the food and beverage entrepreneurs and the general public. It is seen from the queue for tickets at the entrance and full booths offering mainly ingredients baking and chocolate industry.
In Interfood Indonesia 2010 exhibition was also held a number of interesting seminars with the theme "Business Opportunities Peeling Chocolate" and "Password For Success in Food / Bakery Business in premises," held October 28 later. A number of competitions such as the Wedding Cake Competition and the Indonesian National Hotdog Eating Contest was going to enliven the atmosphere.
Interfood Indonesia 2010 will be held till 30 October from 10.00 – 19.00. The business visitors are expected to come with the card name and for the general visitor entry fee of USD 25,000.00. Oh yeah, also note this important point, for visitors are expected to dress modestly and for those who are under 16 years do not allow to enter.
None found.