Mexican Taco Salad-Resep Salad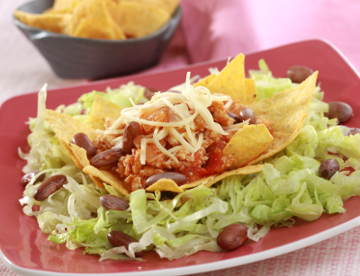 Material:
5 pieces of leaf lettuce, sliced
100 g chips NACO / tortillas
1 teaspoon minced celery leaves
100 g grated cheddar cheese
Fields:
1 tablespoon vegetable oil
50 g onion, finely chopped

1 clove garlic, finely chopped
100 g minced chicken
100 g red beans boiled
½ tsp pepper powder
2 pieces red tomatoes, chopped
2 tablespoons bottled tomato sauce
1 tsp fennel powder
1 teaspoon chili powder
1 teaspoon salt
100 ml plain yogurt
Method:
* Filling: Saute onion and garlic until wilted and fragrant.
* Enter the minced chicken, stir until it changes color.
* Enter the other ingredients and seasonings, stirring until cooked tomato sauce and thick. Lift.
* Add yogurt, stirring until blended.
* Arrange lettuce on serving plates.
* Place the contents on it. Sprinkle with taco chips and grated cheese.
* Serve immediately.
For 4 people