Mushroom Omelette With Pod Peanut Sauce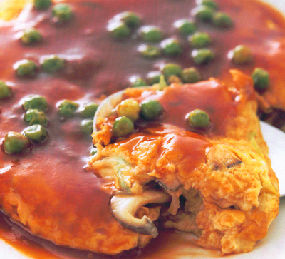 Material:
4 eggs
1 tbsp fresh cream
1 / 2 teaspoon pepper
1 teaspoon salt
1 tablespoon margarine
30 g onion, thinly sliced
50 g chicken meat, small slices

2 pieces shitake mushrooms, thinly sliced
1 stalk spring onion, thinly sliced
Sauce, boil until thick:
2 tbsp oyster sauce
1 tbsp tomato sauce
200 ml water
1 tsp soy sauce
1 / 2 teaspoon pepper
1 / 2 teaspoon salt
2 tablespoons frozen peas
1 tsp cornflour, dissolved in a little water
Method:
* Beat eggs with cream, pepper and salt.
* Saute onions until wilted bawnag.
* Put the chicken, stirring until stiff.
* Add the other ingredients, stirring until wilted. Lift.
* Combine with beaten eggs.
* Heat the omelet pan, pour the egg mixture.
* Cook over low heat until cooked. Lift.
* Place on a serving plate. Pour the sauce.
* Serve Mushroom Omelette With Pod Peanut Sauce immediately.
For two people