Oktoberfest  in Jakarta!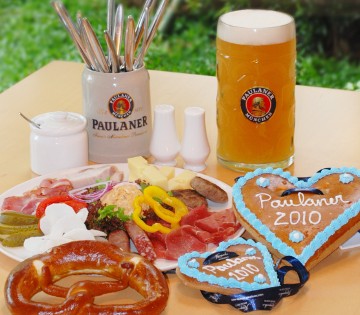 Jakarta – Intrigued by the celebration of Oktoberfest? You do not need all the way to Germany, because in Jakarta else you can come celebrate. A variety of dishes typical of the traditional Oktoberfest and also typical Bavarian entertainment will accompany you. Curious?
Oktoberfest, the event is always eagerly awaited by German citizens. The celebration is usually held in Munich since the beginning of this Okotober now you can enjoy in Jakarta. Paulaner Brauhaus, a German restaurant in Jakarta will take you to feel festive Oktoberfest for a week.

Since 28 October to 7 November, Paulaner Brauhaus will present a typical Bavarian dishes and dances that are packed with costume lederhosen (traditional Bavarian costume.) Unmitigated, music and also Donautal Duo Band, a band that is known from Germany will complement kemeriahannya.
Oktoberfest celebration itself is made of German society. Initially the event was held to celebrate the wedding Crown Prince Ludwig and Princess Therese of Saxe-Hildburghausen. Munich-style beer made to celebrate other than the typical dishes and also traditional Bavarian dances and music.
Following tradition, the celebration of Oktoberfest at Paulaner Brauhaus will also be presented a special beer made in accordance with rules established by the Bavarian Purity Law. Where these rules specify that the beer must contain no more than water, yeast, hops, and malt.
If you're curious as what Oktoberfest was held in Jakarta, just visit the Paulaner Brauhaus, located at the Hotel Indonesia Kempinski Jakarta. For more information you can contact 021 2358 3871
None found.