Onion Sausage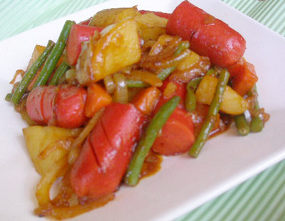 Material:
1 tablespoon margarine
75 g onion, thinly sliced
4 fruit Frankfurter sausage, cut into three sections, slice-slice
1-skinned potatoes, steamed, cut into pieces
75 g carrot, cut into cubes 1.5 cm
50 g green beans, cut into 3 cm
2 tablespoons BBQ sauce
1 tablespoon soy sauce
1 / 2 tsp black pepper powder
1 tsp salt

Method:
* Saute onions until wilted. Continue to stir until the color is brown.
* Enter the sausage, stirring until stiff.
* Enter the vegetables, stir well.
* Tambahkn seasoning, stirring until boiling.
* Remove and serve warm.
Onion Sausage For two people