Red Velvet Fruit Cake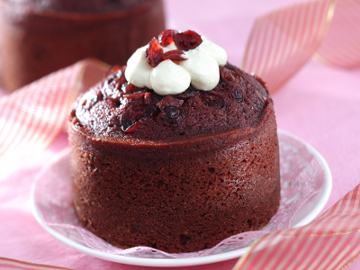 Ingredients:
60 g butter
150 g caster sugar
1 egg
½ teaspoon vanilla powder
120 ml of liquid milk
1 tablespoon red dye
½ tsp vinegar cooked
½ teaspoon baking soda
Sift together:
125 g wheat flour

¼ teaspoon salt
10 g cocoa powder
Stir together:
100 g mixed fruit
1 tbs rhum / brandy
Whisk together:
120 g cream cheese
30 g sugar
80 ml whipping cream
Method:
* Prepare a cake pan diameter 12 cm, polish margarine, sprinkle a little flour. Set aside.
* Beat butter and sugar until smooth.
* Add the eggs and vanilla, beat well.
* Mix the milk and red dye.
* Pour into the batter alternately with the flour while stirring until blended.
* Mix vinegar and soda, enter immediately into the batter. Mix well.
* Add mixed fruit and stir well.
* Pour into a baking dish, smooth.
* Bake in hot oven 180 C for 30 minutes.
* Remove and let cool.
* Grease the surface with material spread.
* Garnish to taste.