Spicy Beef Noodles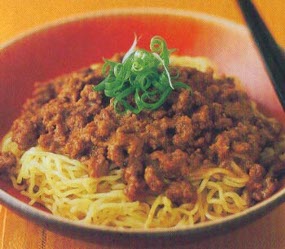 Material:
500 g fresh egg noodles
1 tablespoon soy sauce
1 teaspoon chili oil
2 tbsp oil chicken
1 / 2 teaspoon pepper

Topping:
2 tablespoons vegetable oil
1 / 2 tsp sesame oil
1 clove garlic, finely chopped
1 stalk spring onion, thinly sliced
150 g minced beef
1 tbsp oyster sauce
2 tablespoons bottled chili sauce
1 tablespoon soy sauce
1 tablespoon soy sauce
1 / 2 tsp black pepper powder
1 teaspoon salt
Method:
* Sprinkle noodles with hot water and drain.
* Stir the noodles are still hot denan soy sauce, chicken oil, chili oil and pepper until blended. Set aside.
* Topping: Stir-fry garlic and green onion until wilted.
* Enter the beef, stirring until dry.
* Add the other ingredients, stirring until cooked. Lift.
* Place noodles in serving bowls.
* Give Topping and serve warm with additional broth or vegetables according to taste.
For 4 people