Sweet Chicken Satai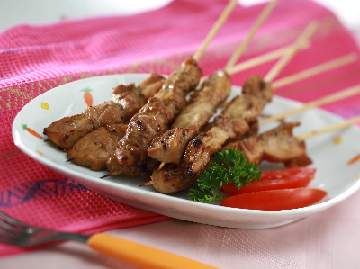 Material:
500 g boneless chicken meat
1 tablespoon vegetable oil
3 tablespoons soy sauce
1 tbsp soya sauce
Spices, puree:
2 tablespoons fried shallots
2 cloves garlic
½ tsp coriander, Roasted
1 teaspoon salt

Method:
* Cut the chicken into pieces 3×2 x ½ cm in size.
* Stir the chicken pieces with oil, soy sauce and spices until blended.
* Let stand for 30 minutes.
* Tusuki tip 4-5 pieces of chicken marinated with satai puncture.
* Bake in the fire while turning until cooked on both sides.
* Remove and serve warm.
For 12 sticks