Bangkok is a culinary paradise. The price was very cheap. Meals peddled on the streets is very diverse and very affordable price.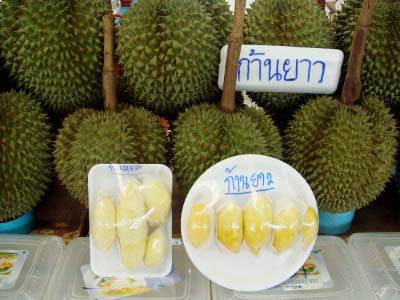 Bangkok is a culinary paradise (detik)

Bangkok is a culinary paradise
Basically, Thai cuisine is divided into North and South. In the North, the cuisine is heavily influenced by Chinese cuisine, Laos, India and even – most of her cooking is very spicy. While in the South, much influenced by Muslim culinary, spices complemented usually wear (a kind of paste).
In addition to rice, most Thai dishes are served with sticky rice. For example, som tam (papaya salad) and yamma Muang (young mango salad) which is always served with a spicy steamed sticky rice because it is a nice spicy flavor absorbers. In the South, plural also eat steamed sticky rice with durian and mango sweet side dish.
Kari (gaeng) also includes popular dishes in Thailand. There is a red curry, green curry, and curry yellow – depending on flavor and color gravy. Because many are Buddhist, many are also vegetarian curry in Thailand. Normally, Thai curry is very thick. Thick coconut milk cooked until the break and separate the oil from coconut milk.
For Muslims, need to be careful to order Thai food. Although chicken dishes, many cooked with a mixture of pork or pork oil. In Bangkok, there are Muslim region with several kosher restaurants that should be noted, for example: Meena in Bang Kapi, Karima in Bang Rak. The restaurants around the Arab and Indian Nana also other options to get Halal food.
The regions surrounding the target market is right when you hunt culinary. Various types of food / snacks tasty and inexpensive can be found. Those who rush to buy a piece of grilled meat is cut into pieces and eaten with steamed sticky rice while walking. Various types of noodle soups are also often found in roadside stalls.
Somboon Seafood is the franchise's most popular seafood in Bangkok – especially for tourists. Actually, more like Somboon seafood restaurants in Hong Kong fish market with the concept. Guests come to choose fish / squid / shrimp / crab / shellfish on-display at the front, and ordered the desired type of cuisine. Somboon has five branches in Bangkok and the price is quite affordable. Seafood Market is also a famous seafood restaurant in Bangkok. Vigilant with their imitation, which is the restaurant with similar names.
You are a fan of pad thai – a kind of fried kuetiauw? Cuisine is available everywhere. However, if you want the most famous place in Mahachai Road, the shop named Thip Samai. Only open from dusk until dawn. TIME magazine had already been covered here.
Do not miss the opportunity to learn to cook. Some hotels, also along the main tourist area, many of which offer short courses Thai cuisine. Within 3 hours, we can learn to cook Thai cuisine type 3-5. The average cooking class offered at such affordable costs. Bangkok is a Culinary Paradise.
If you want a Thai meal is served in fine dining, some restaurants I can recommend include: Baan Khanitha (have 3 outlets, the most luxurious in Sathorn – cum gallery), Patara in Sukhumvit, Silom Le Siam in, or the Blue Elephant on Sathorn . There is also the Manohra Song, dinner cruise on a traditional rice barge that has been restored into a luxury boat, while sailing the Chao Phraya. When you've got about three hours, this is a unique experience.