Cheese  Chocolate Banana Pastry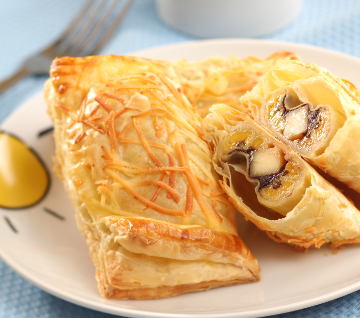 Ingredients:
250 g puff pastry dough, ready to buy
4 pieces of old bananas, split, cut into pieces
200 g cheddar cheese, cut into small long
6 tablespoons brown meisjes

Spread:
1 egg yolk, beaten off
Topping:
50 g grated cheddar cheese
Method:
* Allow the puff pastry dough at room temperature until soft.
* roll the dough and cut the size of 10×10 cm.
* Put a few slices of banana, cheese and 1 tablespoon brown meisjes.
* Fold in half, roll around it until the stick.
* Place on flat baking sheet.
* Brush the surface with egg yolk.
* Sprinkle cheddar cheese.
* Bake in hot oven 200 C for 12 minutes until puffed and golden yellow.
* Remove and let cool.
For 6 pcs