JW Marriott offer Chinese Spring Festival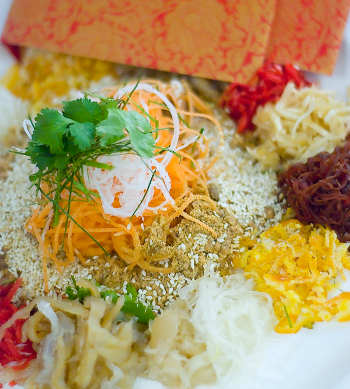 Jakarta – Welcoming the arrival of Lunar New Year, the JW Marriott Jakarta to hold a series of culinary promotions. There is a delicacy Yee Shang, the Chinese set menu, and a variety of Cantonese dishes that can be enjoyed while watching the lion dance and kung fu spectacular. Surely the Chinese New Year this time would be more special!
Starting January 26 to February 12 2011, Sailendra Restaurant will feature a sumptuous Chinese buffet. Call it the Shark's Fin Soup, Special Hainan Chicken Rice, Singapore Chili Crab, and Roasted Pork Belly and a variety of dessert. All can be enjoyed at Rp 208,000.00 + + per person.

While the New Year's Eve special on February 2, the peak will be opened with the celebration of Chinese New Year tradition of enjoying the Yee Sang. Where the visitors will jointly make use of Giant Yee Sang tossing. Special dinner is priced at Rp 458,000 + + (buffet plus non-alcoholic beverages).
At the same time Chef John Chu at Pearl Chinese Restaurant will also hold a variety of delicious Cantonese cuisine and pertujukan lion dance. There are 3 choices of New Year set menus such as Wealth set menu for Rp 458,000 + +, Prosperity set menu Rp 588,000 + + and Happiness set menu for Rp 988,000 + +. The package sets this special menu can be enjoyed until Cap Go Meh celebration which falls on February 17th, 2011.
In addition to the package menu there is also a la carte menu consisting of Braised Dried Oyster with Sea Moss and Wing Duck, Roasted Baby Chicken with Fragrant Garlic and Shollot, etc.. As the menu Chilled Lemongrass cover consisting of jelly, peanut gingko, and slices of fresh mango that can be an option. This unique dessert served cold with a piece of dragon fruit container.
Not to forget Asuka Japanese Dining will also hold a special dish to welcome the coming years gold rabbit. Chef Osamu Nishiura will present a unique dish "Omakase" specifically those who want to enjoy the new year with the atmosphere and cuisine are different.
Welcoming the new year does not feel special without the presence of Nian Gao. "For the people of China, nian gao also means lunkhead. Usually this is used as a conductor for family, friends and relatives. Texture nian gao, sticky and sweet to have meaning in the new year for both family, friends, and relatives are always close and sweet enjoy it symbolizes enjoy prosperity for all the nian gao, "explains Chef John of Chu.
Nian gao or lunkhead China are offered in 3 forms such as Koi Fish, sun flower, and the golden bars. Home made nian gao is packaged in a beautiful box weighs 450gram, 700 grams, and 800 grams with a price of Rp 188,000 to Rp 288,000 + +. For reservations and more information on the promotion of Chinese Spring Festival, please contact 021-57988888.