Kaya Toast Cokelat
Toast and spread butter Sugar-apple is the main dish in almost every Kopitiam. The secret lies in the delicious bread and jam srikaya. Choose a nice fresh bread and sliced ??not too thick so crunchy when bitten.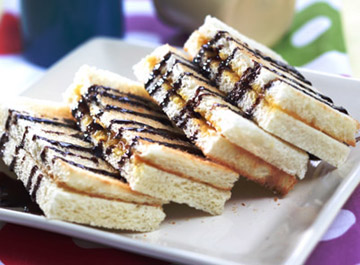 Kaya Toast Cokelat (detik)

Kaya Toast Cokelat
Material:
8 pieces of white bread, thinly sliced
2 tablespoons butter
100 ml Sugar-apple jelly
150 g dark chocolate, a team of up to melting
Kaya Toast Cokelat
Method:
Bake the bread in the oven until browned and slightly dry.
While hot, spread the surface of bread with butter and jam srikaya.
Cover with other bread slices. Cut in half.
Arrange on a serving plate.
Give melted chocolate.
Serve warm.
For 4 people