Mie Rica-Rica – Indonesian Recipe
When the cold air fitting eating spicy warm. Rica spicy noodles are spicy bite is guaranteed to pump up morale. Additional vegetable noodles make it so the more complete nutrition.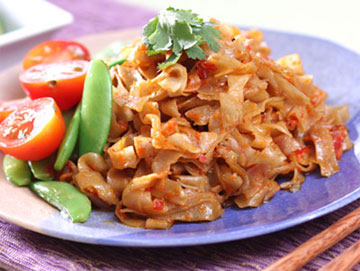 Mie Rica-Rica – Indonesian Recipe (detik)

Mie Rica-Rica – Indonesian Recipe
Ingredients:
500 g mi wide
2 tablespoons vegetable oil
2 lime leaves, thinly sliced
1 stalk lemongrass, white part, thinly sliced
1 tablespoon dried shrimp, soaked until soft, puree
1 tablespoon soy sauce
6 cherry tomatoes, halved
100 g of sweet peas, clean
puree:
5 pieces of red pepper curls
3 pieces of red chili sauce
Red onion 2 eggs
3 cloves garlic
½ cm ginger
½ tsp pepper granules
2 tsp salt
How to make:
Boil noodles in hot water until soft. Drain immediately.
Sauté the ground spices with lime leaves and lemongrass until fragrant.
Enter the dried shrimp and soy sauce and stir well.
Enter the vegetables, stirring until wilted.
Add the noodles, stirring until blended.
Remove from heat. Serve warm.
For 4 people