Nasi Lemak – Indonesian Recipe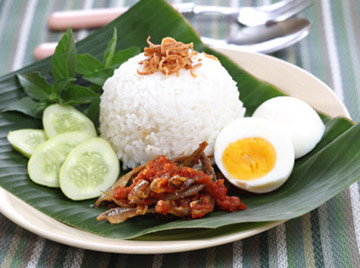 Nasi Lemak – Indonesian Recipe (detik)

Nasi Lemak – Indonesian Recipe
Jakarta – Singapore-style Rice rames is much preferred because of side dishes simple. Salted fish is crisp and crunchy sauce wrapped in a main dish. Also complement the rice boiled eggs are often eaten as a breakfast menu.
material:
Tasty Rice 400 g *)
side dish:
Boiled Eggs 2 eggs, peeled, halved
1 piece of cucumber, thinly sliced
basil
Sambal Fish bleary:
2 tablespoons vegetable oil
5 grains of red onion, thinly sliced
Java 2 tablespoons tamarind water
100 g jeans anchovies, fried
puree:
8 red chilies
4 grains of red onion
1 clove garlic
½ tsp shrimp paste
½ tsp sugar
1 teaspoon salt
Nasi Lemak – Indonesian Recipe
Method:
Sambal Ikan Bilis:
Saute onion and pepper until wilted.
Add spices smooth, stirring until cooked.
Add tamarind water and stir well.
Enter the anchovies and stir well. Lift.
Serve rice with fish sauce, boiled egg, sliced ??cucumber and basil.
For 4 people