Orange Almond Pudding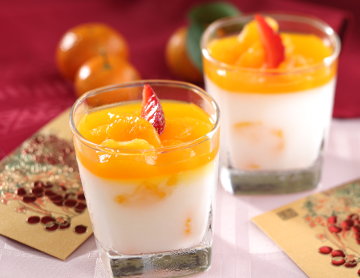 Ingredients:
Pudding:
1 packet jelly powder
100 g granulated sugar
600 ml fresh milk

Orange Sauce:
250 ml fresh orange juice
2 tablespoons granulated sugar
2 teaspoons cornstarch, dissolved in a little water
Complement:
canned mandarin oranges, drained
Method:
* Mix the jelly and sugar until blended.
* Add fresh milk and stir well.
* Bring to a boil over low heat until boiling.
* Lift, enter the essences of almond and mandarin oranges and stir well.
* Pour the batter into the pan or mold according to taste.
* Allow to cool then store in refrigerator until hardened.
* Serve with orange sauce and mandarin oranges.
* Citrus Sauce: Cook the orange juice and other ingredients until thick.
* Remove and let cool.
For 6 cups