Pasta Recipes: Ravioli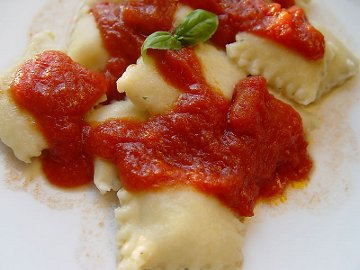 Ingredients:
500 g Pasta Dough
1 egg
50 g wheat flour
Dough Contents:
60 ml salad oil
10 g garlic, finely chopped
30 g finely chopped onion
1 piece bay leaf
100 g spinach leaves, blansir
150 g minced chicken
50 g ricotta cheese
2 g salt
1 g rather finely crushed black pepper

Method:
* Dough Contents: Saute garlic, onions and bay leaf until fragrant.
* Add spinach and seasonings, stirring until blended. Remove and let cool.
* Stir the spinach with minced chicken and cheese until blended. Set aside.
* roll pasta dough with a rolling pin noodles until 2 mm thick.
* While sprinkle with flour, shape into 2 long rectangular pieces of dough.
* Spread one sheet of dough with egg.
* Place the contents of each 10 g of dough on top of the dough piece. Leave a gap in between.
* Cover with another piece of dough. Tap-tap up to tape.
* Cut a rectangular shape.
* Boil in boiling water a little salt for 5 minutes.
* Remove and drain.
* ravioli served with a sauce prepared according to taste.
For 4 people