Pineapple BBQ Sauce Mushroom Steak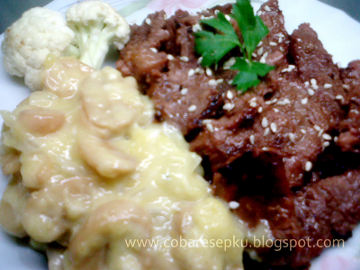 Steak Ingredients:
500 g of meat has in the beef, thinly sliced
5 tablespoons bottled barbecue sauce
1 / 2 teaspoon garlic powder
2 tablespoons sesame oil
1 teaspoon toasted sesame seeds, for topping
Pineapple Mushroom Sauce Ingredients:
2 tablespoons butter for sauteing

100 g button mushrooms, thinly sliced
75 g pineapple, peeled, grated
2 cloves garlic, finely chopped
50 g onion, finely chopped
65 ml thick coconut milk
1 tsp sugar
1 / 2 teaspoon salt
1 / 4 teaspoon pepper
1 / 4 tsp pepper powder
1 teaspoon cornstarch, dissolved in 2 tablespoons of boiled water
Directions:
* Sauce: Heat butter in skillet.
* Add garlic and onions, saute until fragrant.
* Enter the mushrooms, stir briefly.
* Pour the coconut milk, add sugar, salt, pepper and pepper.
* Cook until boiling coconut milk. Enter the pineapple and water solution of cornstarch, stirring until thickened coconut milk. Lift.
* Steak: Mix barbeque sauce, garlic powder and sesame oil.
* Enter the meat, stir until evenly distributed. Let stand for 1 hour for flavor to infuse.
* Roast meat on the grill or over coals until done.
* Remove, sprinkle with sesame seeds.
* Serve steak with mushroom sauce pineapple.
For 3 people