Putu Mayang Cake Recipe
Snacks tasty and fragrant is good to be served to break later. Putu from the fragrant rice noodles layered dough jelly chewy sweet. More delicious when eaten cold.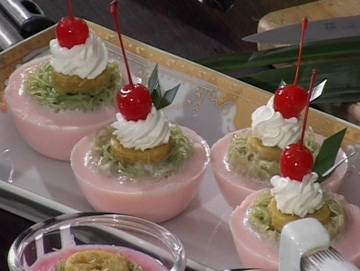 Putu Mayang Cake (kompas)

Putu Mayang Cake
Material I:
400 ml coconut milk is not too thick
100 ml water of suji leaf (20 leaves Suji and 4 pieces of pandan leaves)
2sdt salt.
75 g sugar
1 / 4 tsp vanilla powder
Vermicelli 275 g Corn, Mother Choice dry, or 2 boards.
Material II:
3 tablespoons corn starch / cornstarch.
2 bananas horns that have been steamed.
600 ml of liquid milk strawberry.
1 packet Crystal For Strawberry flavor.
Materials III:
100g grated coconut youngish salt and steamed.
How to Make:
Boil coconut milk until boiling, add suji leaf water, vanilla, and salt.
Corn Vermicelli input, let stand until fluffy, add sugar gradually until absorbed and chill.
Corn Vermicelli Mix with corn starch, put the cake pan in a bowl, fill the center with a banana, steamed for 15 minutes.
Boil liquid milk, Kristal Agar, and sugar.
Put the steamer into a small bowl, then pour the liquid agar was mixed with milk, and wait until hardened.
Sprinkle with grated coconut. Serve.
For 12 pieces