Sauge Fried  Sandwich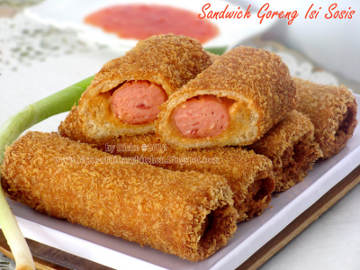 Ingredienst:
5 pieces of white bread, remove crusts, thin with a rolling pin / body bottle
5 pieces of beef sausage, fried briefly
Sauce:
1 tbsp tomato sauce
2 teaspoons bottled mayonnaise

Quick Melt 15 grams of cheese / mozzarella (or to taste), finely grated
½ tsp pepper powder
½ teaspoon dried oregano
Oil for frying
Coatings:
1 egg, beaten off
100 g coarse flour PANIR
Method:
* Sauce: Mix all ingredients. Set aside.
* Take a piece of white bread which has been thinned, put sausage on one side, give the sauce.
* Roll up while compact enough. Glue the edges with a little egg.
* Cover with beaten eggs and roll into flour PANIR rough. Do it until they run out.
* Heat oil over medium heat. Fry until golden brown. Lift. Drain. Serve warm with bottled chili sauce or sambal bangkok.
For 5 pieces