Sirloin Beef Teppanyaki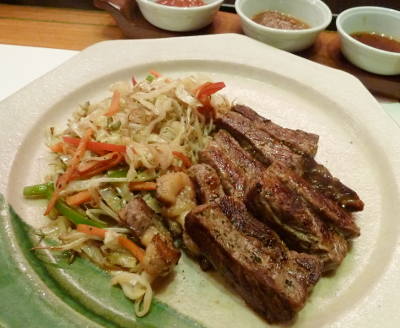 Ingredients:
180 g Australian Striploin
20 g shitake mushrooms, thinly sliced
20 g champignon mushrooms, thinly sliced
15 g mushrooms shimeji
5 g unsalted butter
10 ml Japanese soy sauce
½ tsp pepper powder

½ teaspoon salt
Steak Sauce:
360 ml Japanese soy sauce
90 ml mirin, if desired
180 ml of sake, if desired
70 g sugar
100 g pineapple, grated
100 g apples, grated
30 g garlic, grated
80 g onion, grated
30 g sesame seeds
Method:
* Heat butter in a thick flat griddle.
* Cook meat until done on both sides.
* Cut the meat into pieces.
* season soy sauce, pepper and salt, stirring rata.Sisihkan.
* Saute the mushrooms until wilted, stir in remaining ingredients. Lift.
* Serve steak with mushroom saute.
* Flush with Steak Sauce. Serve hot.
* Steak Sauce: Mix all ingredients together.
* Cook over low heat until boiling and thickened.
* Remove and let cool.
Serves 1