Steak Sukiyaki Hot Recipe
This can be a traditional way of grilling a Japanese-style steak. The mixture of beef and veggies causes it to be an entire meal.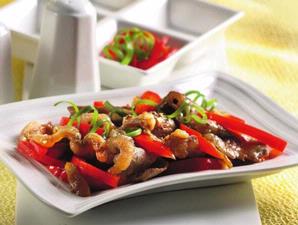 Steak Sukiyaki Hot Recipe (nakita/kompas)

Steak Sukiyaki Hot Recipe
Ingredients :
300 gr beef sukiyaki
1 pc bell pepper, seeded, sliced ??lengthwise
1 tablespoon soy sauce kikoman
3 tsp sesame oil
1 tablespoon mirin
1 tablespoon granulated sugar
2 cloves garlic, crushed
5 tablespoons vegetable oil for sauteing
Method :
1. Combine mirin, sugar, soy sauce kikoman, and sesame oil, stir well.
2. Heat the vegetable oil on the hotplate, saute garlic until golden.
3. Enter the spice mixture to a boil.
4. Enter the pages of meat, stir fry until dry. Dab a little pepper powder, if you like the taste a bit spicy.
5. After the meat cooked, mix the paprika, stirring until blended.
6. Serve while still hot peppers and not cooked properly.
Serves 6
Nutritional value per serving:
Energy: 259 kcals
Protein: 12.6 g
Fat: 22.4 g
Carbohydrates: 2.2 grams