Valentine's Dinner di Orient 8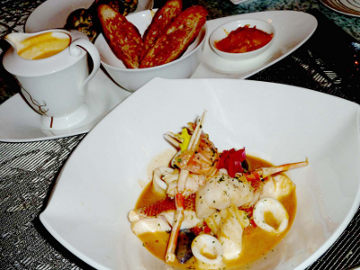 Jakarta – Hotel Mulia Senayan Basement save a lot of culinary surprises. This place is like a convergence of a variety of culinary special. Il Mare, for example, which is famous for its Italian cuisine. There was also a Table 8 and the Orient 8.
Orient 8 uses the location of the former Ocean Seafood. Wide, and arranged with an interior that looks luxurious. Orient 8 are intended to be a fine-dining restaurant that serves French cuisine and Pan-Asian (Thai-Vietnamese-Chinese).

On the list were three bid packages menu degustation menus France: Napoleon (8-course) to Rp 1.2 million per person, Louis (6 courses) USD 888 thousand, and Marie (5-course) Rp 588 thousand. Figures 8, according to the name of the Orient 8, seems to always be used because it is a lucky number in Chinese tradition.
For Pan-Asian cuisine is also there degustation menu for Rp 348 thousand per person. Buffet lunch is also available at reasonable prices USD 160 thousand. Food choices for lunch buffet is not too much, but it looks fine.
Availability of a la carte menu allows us to mix and match between French cuisine and the Pan-Asian. For example: a message of Pan-Asian appetizers to be shared, and the message of individual French play course. Or, vice versa: French message of individual appetizers, and "middle eat" with a wide selection of Pan-Asian cuisine.
Bouillabaisse Marseillaise me give you his number 9. Mak nyuss! Right portion, right price, beautiful presentation, it feels special.
Some traditional French menu that appears on the menu, among other things: tartare de Boeuf (USD 300 thousand), which would definitely be my next target for trial on other occasions, and confit de Canard (USD 94 thousand, ration duck).
To be sure, the Orient 8 are very supportive for the romantic dinner with your lover. Classy, elegant, romantic.
Orient 8
Pan-Asian and French
Hotel Mulia
Jl. Asia Afrika, Senayan
South Jakarta
021 5753278