Wajik Ketan Nangka – Indonesian Cake
This classic snack market has a flavor chewy-chewy and sticky. Fragrant aroma of jackfruit, pandan leaves and coconut milk makes it seems more legit. Delicious chewy sipping unsweetened tea or black coffee. Especially enjoyed during the cold air. .. Yum yum!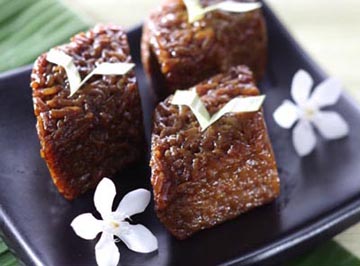 Wajik Ketan Nangka – Indonesian Cake (detik)

Wajik Ketan Nangka – Indonesian Cake
ingredients:
500 g white glutinous
1 sheet of pandan leaf
300 ml coconut milk
5 eyes jackfruit, seeded
250 g brown sugar, comb
2 tablespoons granulated sugar
½ tsp salt
How to make:
Wash the glutinous rice until clean.
Soak in cold water for 3-4 hours then drain until quite dry.
Steamed sticky rice in the steamer heat until half cooked (about 30 minutes)
Lift the sticky rice.
Insert the jack into the blender bowl. Process until smooth.
Cook the coconut milk with coconut milk, brown sugar, granulated sugar, and salt until boiling.
Lift and then strain.
Stir in hot milk and cook until the coconut milk sticky rice half sucked out by the sticky rice.
Take a few moments.
Steamed sticky rice again until soft, remove from heat.
Prepare a flat rectangular pan, basting with a little vegetable oil.
Pour the hot sticky rice into the pan.
Tap-tap until solid and then let stand until cool.
Cut into diamond shape pieces. Serve.
For 20 pieces
Calories: 3069 kcal – 153.5 kcal / cut
Protein: 37.04 g – 1.8 g / piece
Carbohydrate: 686.3 g – 34.3 g / piece
Fat: 18.6 g – 0.93 g / piece
Fiber: 235.6 g – 11.78 g / cut