Red Chicken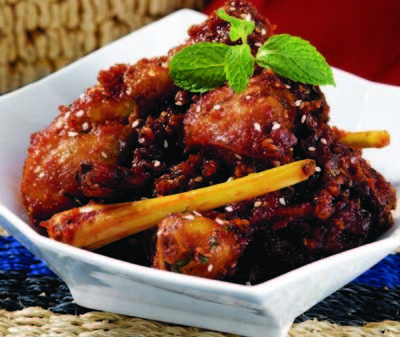 Red Chicken (detik)
Red Cook Chicken
Jakarta – This food can be a nice alternative side dish. Sweet spicy taste a little sour. Sprinkling a little sesame makes this food more delicious.
Ingredients:
1 whole (1.5 kg) chicken, washed, cut into 8 pieces
250 ml vegetable oil
125 ml tomato sauce

70 g of frozen peas
1 tsp turmeric powder
1 tsp salt
1 whole onion, thinly sliced
granulated sugar
white sesame seeds
mint leaves
puree:
3 tablespoons ground red pepper
3 cloves of garlic
6 grains of red onion
Methode:
Marinate chicken with turmeric and salt until blended.
Heat oil, fry chicken until golden brown. Drain.
Leave 5 tablespoons oil, saute ground spices until fragrant.
Add chicken and suas tomatoes, stirring until blended beberpa minutes.
Add peas, onions, salt and sugar. Adkl average. Lift.
Sprinkle with sesame seeds and mint leaves.
Serve.
For 8 people