Chicken Seasoning Srepeh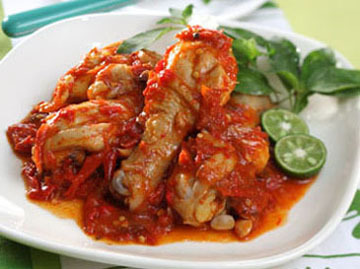 Chicken Srepeh Seasoning (detik)
Chicken Seasoning Srepeh
Jakarta – grilled marinated chicken chili is typical of the north coast of Java marinade spicy, slightly sweet flavor interspersed with savory chicken, delicious eaten for lunch
Ingredients:
4 pieces of chicken thigh bottom
4 tablespoons vegetable oil
1 orange leaves

Seasoning :
6 large red chilies, boiled
5 grains of red onion
2 cloves garlic
5 pieces of great chili, stew
½ tsp sugar
1 tsp shrimp paste fried
1 tsp salt
Methode:
Grilled chicken over hot coals until slightly dry.
Saute the spices until fragrant.
Enter lime leaves, stir until fragrant.
Add chicken, simmer until the flavors mingle.
Remove and serve.
For 4 people