You can cook your own dishes that add energy Latin America, the iron content and high protein. As well as using fresh ingredients and herbs that can increase your metabolism, especially of dried chili distinctive Latin America.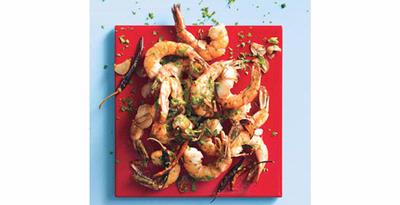 Chile-Garlic Shrimp – Latin America (kompas)

ingredients:
1 teaspoon extra virgin olive oil
2 pieces of dried chili (add the chile for garnish if you like)
2 teaspoons brandy
2 teaspoons finely chopped fresh celery
10 cloves garlic, thinly sliced.
906 gr large size shrimp, peeled.
How to make:
1. Heat the oil in a skillet over high heat.
2. Saute garlic until browned, about two minutes.
3. Add shrimp and chili, stir-fry until the shrimp cooked, about four minutes.
4. Add brandy and cook one minute more.
5. Remove the dish from the pan onto a plate, the plate evenly on eight ketch.
6. Sprinkle with celery, add salt to taste and serve warm.
composition:
160 calories per 5 shrimp.
0.1 g fiber
23.3 grams of protein
5.5 g fat (0.9 g saturated fat)
2.4 grams of carbohydrates
For 8 people