Crispy Salmon With Tropical Salsa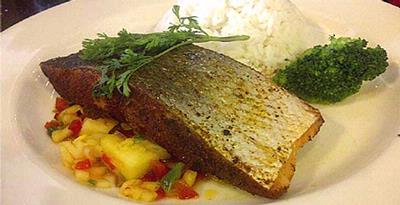 Crispy Salmon With Tropical Salsa (Kompas)
Crispy Salmon With Tropical Salsa
Ingredients:
180 g Salmon without thorns
Seasoning:
Cajun
1/2 tsp chilli powder tsp

1/2 teaspoon onion powder
1/2 tsp cinnamon, grated
1/4 teaspoon nutmeg
1/2 tsp paprika powder
1/2 teaspoon garlic powder
salt, to taste
sugar, to taste
* (To make this seasoning, marinade size can be adjusted to your taste. If you prefer a more spicy flavor that can be used in greater numbers)
Tropical Salsa:
300 g mango, diced small
2 pieces of red chilli, seeds removed
1/2 piece red bell pepper, diced
300 g pineapple, diced
sesame oil, to taste
cilantro, to taste
1 tablespoon rice vinegar (if you want a stronger flavor, add cukanya)
salt and sugar to taste
Methode:
1. Preheat oven to about 250 degrees. Set aside
2. Prepare fish, cajun seasoning smeared in all parts except the skin.
3. Add a little sesame oil and a little salt and averaged. Let stand a few minutes.
4. Bake the fish for 8-10 minutes. But if you want to get fish meat underdone (not too ripe), grilled fish for 8 minutes. If you want a little dry, bake for 10 minutes.
5. Tropical Salsa: Mix all these ingredients together and averaged. set aside.
6. Presentation: Place a scoop of tropical salsa in the bottom of the plate. Then place the grilled salmon on it.