Krakkeling Keju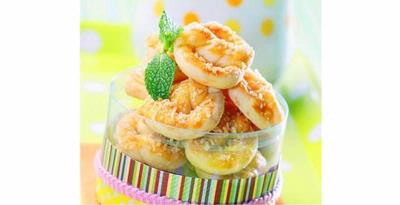 Krakkeling Keju (Kompas)
Ingredients:
250 grams of wheat flour
75 g butter

50 gr parmesan cheese
½ tsp salt
1 tsp instant yeast
125 ml of ice water
Spread:
2 egg whites
½ tsp salt
Topping:
50 gr parmesan cheese
How to make:
1. Preheat oven at a temperature of 200 degrees Celsius, spread flat pan with margarine.
2. Mix flour, yeast, and parmesan cheese and stir well. Add the butter, knead her enter the water that has been mixed with salt, knead again until not sticky to the touch.
3. Allow the dough for 30 minutes.
4. Take a little dough, gyre to a long stick and form pritzel. Brush with egg white and sprinkle with a sprinkling of parmesan cheese until smooth.
5. Bake in the oven until the pastry was overcooked and dry.
For 600 grams