Red Bean Bread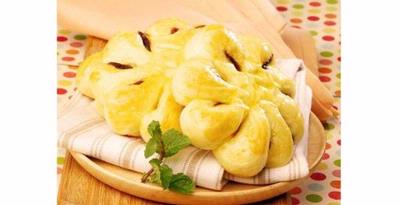 Red Bean Breadh (kompas)
Ingredients:
½ economical bread recipe
Material Content:
250 grams of red beans, soak 1 hour

200 gr sugar
1 tsp salt
1 ltr of water to boil
1/8 tsp vanilla
3 btr egg yolks for sprinkling
Methode:
1. Boil lentils until tender, remove from heat and blend.
2. Add other ingredients, and cook, stirring frequently, until dry and thick.
3. Weigh dough each 40 grams, round. Flatten and then spoon the contents, then close the ground again until flat and round.
4. Cut 8 pieces do not break around the dough. Twist each piece to form the petals, let stand 10 minutes.
5. Brush the egg yolk and bake 12 minutes at a temperature of 180 degrees Celsius.
For 12 pieces
None found.