Like the taste of spicy and savory? Well, this cake is good for you. There is a tinge of savory and spicy flavors that accompany it. Scent of bay leaf adds nice soft texture of this cake.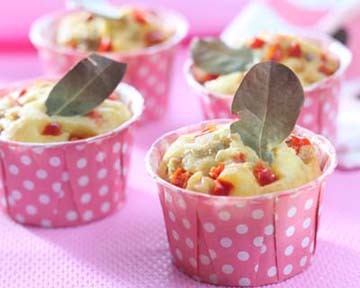 Red Pepper Cupcake Recipe (Syahroni/detik)

Ingredients:
150 g butter, allow it to software
75 g red pepper, finely chopped
2 red onions, chopped
2 cloves garlic, minced
75 g chopped almonds
4 eggs
12 bay leaves
Mix together:
250 g flour
1 teaspoon baking powder
How to make:
Heat 1 tablespoon butter, saute peppers and onion until wilted.
Stir butter and flour mixture until blended.
Add the eggs, sauteed onions and other ingredients. Stir well.
Pour into 12 cupcakes.
Bake in hot oven 180 C for 40 minutes until cooked.
Remove and serve warm.
For 12 pieces
Calories: 2790.5 kcal – 232.54 kcal / serving
Protein: 70.83 g, 5.9 g / serving
Fat: 404.49 g – 33.71 g / serving
Carbohydrates: 243.01 g, 20.25 g / serving
Fiber: 9.9 g – 0.825 g / serving